At Broadway, we want you to experience a new life provided to us by the Gospel - the power that unites us from all backgrounds and walks of life regardless of age or ethnic background. We want you to find freedom in Christ that brings joy and completeness to your existence by focusing on the Holy Spirit and Christ's transformation in your life.
Fall 2020 Women's Ministry Bible Studies
We are offering two fall Bible Study opportunities this fall!

Monday Nights at 6:00 PM - Jonah: Navigating a Life Interrupted by Priscilla Shirer

Tuesday Nights at 6:00 PM - Lies Women Believe and the Truth that sets us Free by Nancy DeMoss Wolgemuth

Click below to learn more about each bible study and register!
IRONMAN will be starting again on Saturday, September, 19th at 8:00 am. The topic of discussion will be from Dr. David Jeremiah's book: SLAYING THE GIANTS IN YOUR LIFE. This study will take us up close and personal with many Biblical characters as they faced their GIANTS (spiritual battles). We'll look at men like David, Nehemiah, Paul, and Jesus Himself as they faced…and "slayed" their GIANTS.

For more details about the study, click below:
Students- You're Invited!
Broadway Students is having a Fall Bonfire & Cookout on September 19th.

TRANSPORTATION: Parents/Students can drive over on their own or utilize the shuttle van leaving from the church parking lot.

Contact Christoper Lawrence (Student Minister) for the location address at clawrence@broadwaychristian.com.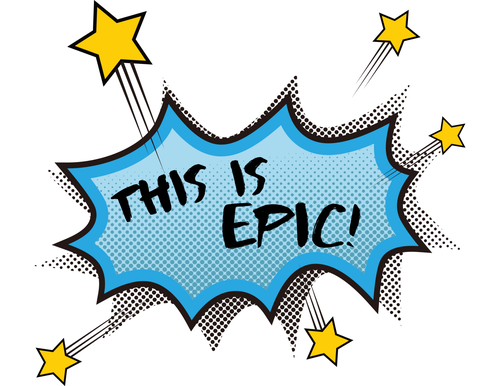 While the Children's and Student ministries are not able to currently meet in person, we still wanted to make sure our students and children felt included on Sunday mornings!

This Is Epic! is a dedicated time for kids and families hosted by Tulla Hunt (Children's Minister) and Christopher Lawrence (Student Minister) at the end our Contemporary Service. The video segment includes variations of worship, interactive lessons, games and a memory verse.

Make sure to stick around until the end of the Contemporary Service, every Sunday at 11:45am, to catch This Is Epic! or visit the This Is Epic! web page each week for current and past videos!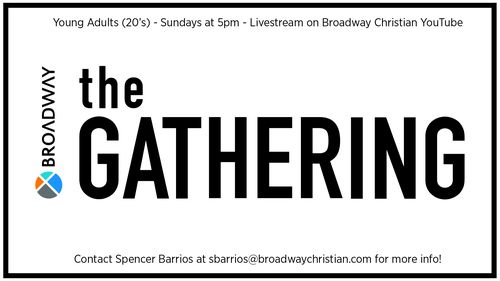 The Gathering Returns - September 20th!
We're kicking off a new digital version of The Gathering!

Click below to learn more about the format and how to join the livestreams!
As Paul ends his famous Love chapter in 1 Corinthians 13, he says three things last forever. Focusing on the enormity of the concept of forever causes us to see how deeply important these three things are in our lives. In our "What Matters" series we will to dive in deeper as we unpack each of these gifts individually.
Click here to watch our current and past services!
10:30 am - Contemporary Service
Worship Center - North Building

10:30 am - Classic Service
Sanctuary - South Building
187 N Broadway
Lexington, KY 40507

(859) 252-5638