At Broadway, we want you to experience a new life provided to us by the Gospel - the power that unites us from all backgrounds and walks of life regardless of age or ethnic background. We want you to find freedom in Christ that brings joy and completeness to your existence by focusing on the Holy Spirit and Christ's transformation in your life.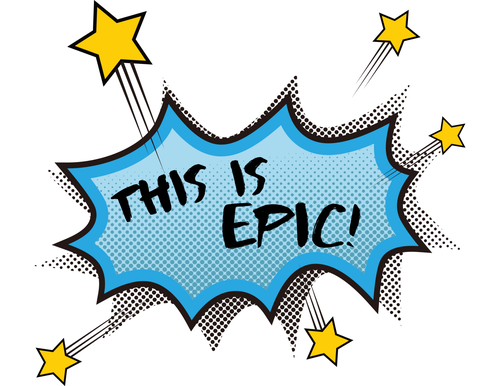 While the Children's and Student ministries are not able to currently meet in person, we still wanted to make sure our students and children felt included on Sunday mornings!

This Is Epic! is a dedicated time for kids and families hosted by Tulla Hunt (Children's Minister) and Christopher Lawrence (Student Minister) at the end our Contemporary Service. The video segment includes variations of worship, interactive lessons, games and a memory verse.

Make sure to stick around until the end of the Contemporary Service, every Sunday at 11:45am, to catch This Is Epic! or visit the This Is Epic! web page each week for current and past videos!
Operation Christmas Child
Boxes will be available for those that attend in-person on Sunday, October 18th for pickup.
For those who are not coming right now and may want to participate in OCC, we will have a pick-up "drive-thru" date on Sat., Oct. 24th from 10:00-12:00 here at Broadway.
Celebrate Recovery is Launching!
We're excited to be kicking off Celebrate Recovery on October 22, 2020.

Each Thursday we'll be meeting virtually via ZOOM. To sign up and receive the ZOOM call information, please visit the link below and enter your information.

Have questions? Contact Donnie Parish at dlparrish2@outlook.com.
Attention Tech Booth Volunteers!
We will be hosting a training for all tech booth volunteers (Classic and Contemporary service) on November 1, 2020 after both services in the Contemporary Worship Center.

Interested in becoming a tech booth volunteer? Join us for the training- no sign up required!

Questions? Contact Spencer Barrios at sbarrios@broadwaychristian.com or David Congleton at dcongleton@broadwaychristian.com.
Your worldview is the "framework" of how you view the world. It's a way to summarize what you believe to be true, which in turn, ultimately determines how you live your life. And as a Christ Follower, this is huge! Because how we view things matters. It matters to God and it should matter to us. That's why He's given us His Word in the first place…so we can view life through His lens… not our own lens. We call this a BIBLICAL WORLDVIEW.

Our prayer is that you will allow the Holy Spirit to help you adopt a true BIBLICAL WORLDVIEW and that you will pass this teaching on to those you love.
Click here to watch our current and past services!
10:30 am - Contemporary Service
Worship Center - North Building

10:30 am - Classic Service
Sanctuary - South Building
187 N Broadway
Lexington, KY 40507

(859) 252-5638